News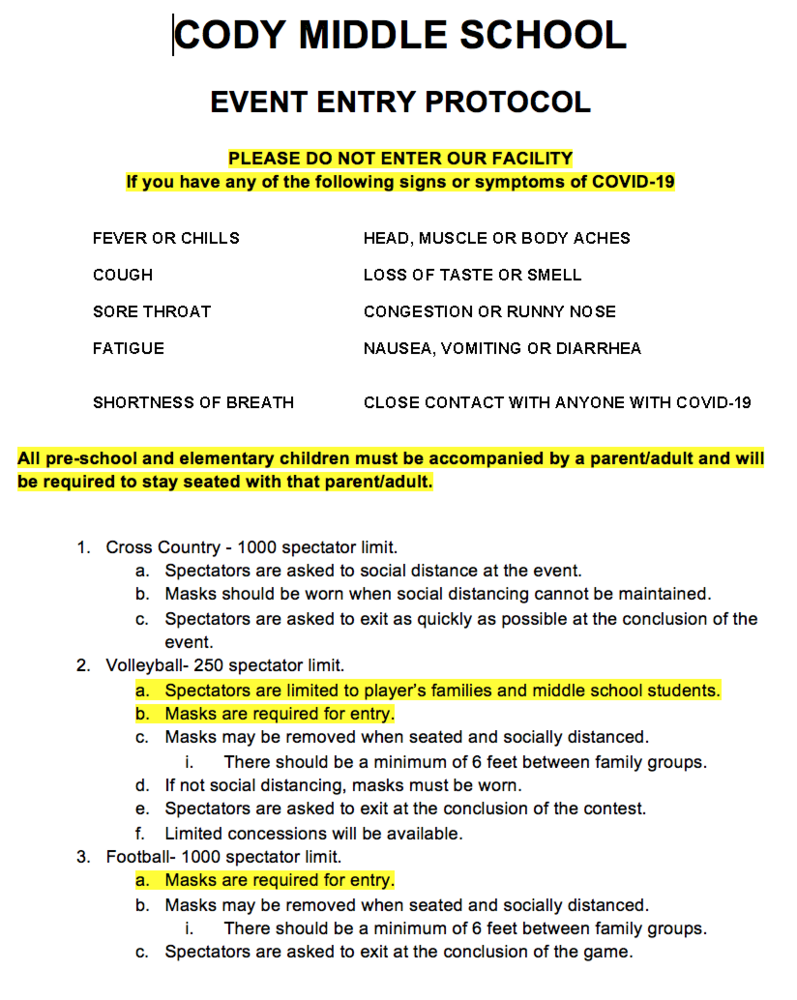 CMS Activity Event Protocol
8th Grade Student Supply List - 2020/21
7th Grade Student Supply List- 2020/21
SEE ALL NEWS
LIVE FEED

Kelly Merager - CMS Principal
4 days ago
A message to our Cody Middle School Families and staff from our Student Council
Halloween is quickly approaching, and CMS Student Council wants to provide a safe way for students to still have fun on this Halloween Eve during school!
Students may wear Halloween costumes to school on Friday, October 30, 2020. There will be a costume contest that students may participate in and a vote held during Advisory. Students interested in the contest should go to room 308 when they arrive at school, before 1st period, to have their picture taken. Individual and group costume pictures will be uploaded to a Google Form for voting purposes. Those participating will also go on the stage during their lunch period for their peers to clap and cheer. Winners from staff and each grade level will receive a prize, and the advisory classes with the winners will receive a trophy to keep until next year's contest!
Have fun and be sure to see the Costume Guidelines below.
All costumes must adhere to the following conditions:
CMS dress code enforced – no bare midriffs or "revealing" clothing, appropriate shoes must be worn, etc.
You must be able to sit, walk, breathe, see and hear! (no masks that cover the entire face). You may bring your mask for the picture if you are participating in the contest. Eye Masks that cover just the eyes will be allowed as long as they are no larger than what a pair of sunglasses would obscure.
Face paint/Make-up is allowed as long as it conforms to the other costume guidelines.
Costumes cannot promote use of drugs, alcohol or weapons of any kind!
No real or pretend "prop" weapons such as water pistols, knives or swords!
All school rules will be enforced (i.e., no bikes or skateboards, etc.)
Costumes may not be offensive or inappropriate in any way, which will be determined by school administration.
Sincerely,
CMS Student Council
Kassi, Dalton, Harper, Jake, Emilia, Reed, Emma, Zandy, Avery, Jillian, and Bea
view image

Laurie Harrison-Administrative Assistant
11 days ago
Student photo retake day will be October 22nd, in the morning from 8-9:30 am. This is for any student that was absent on our original photo day or for those students wanting retakes.
view image
Susie Umphlett
11 days ago
To our CMS families and staff ---
PCSD#6 will still be honoring our Veterans this coming Veteran's Day. It will not be a large gathering, rather it will be virtual. For the rest of the month of October, the CMS Student Council will be doing a fundraiser called Quilts for Veterans to raise money for the Bighorn Basin Honor Quilts project.
Please read more about this wonderful project on the email that was sent our earlier this morning ... The Student Council is asking that students "build a flag" in their advisory classes by purchasing a red, white, or blue heart for 50 cents each. This fundraiser will begin this Wednesday, 10/21, and the advisory class with the most money by Friday, 10/30 will be given a pizza party!
If you know of a veteran who would benefit from the gift of an Honor Quilt, please contact Debbie Vold with Families on the Frontline at 272-4294.
We appreciate all your help and support and look forward to this competitive fundraiser! CMS Stuco

Kelly Merager - CMS Principal
23 days ago
CMS Parents/Guardians-Please ensure that your child has a water bottle provided from home. We only have bottle fill stations operating at this time due to COVID-19 issues & we no longer have bottles or cups to provide to students. Your help and support would be most appreciated!

Laurie Harrison-Administrative Assistant
24 days ago
No school for students on Monday, October 12th.
view image
SEE ALL POSTS